AFC West Coast Academy Baseball
AFC West Coast Academy Baseball
As a baseball parent, have you ever wondered why you are spending thousands of dollars for your son to travel all over the country for showcases and tournements and yet he still has no college offers??
This is a question I hear hundreds of times from parents every year, and the answer is quite simple: college coaches DO NOT go to showcases to "discover new talent. " With the average college baseball coach receiving around $1000 a year to recruit, these college coaches are going to see players that are already on their radar, and they need a closer look (and time) to get to know them. This is why your son is not getting looked at; it has nothing to do with his talent but with the fact he is not on the coaches' radar!
This is why AFC West Coast Baseball is so unique. We work with college coaches at all levels from NCAA D1, 2, 3, NAIA, and JUCO. What we do that is so different is we create a player profile of your son (with grades, measurables, and video) and send it to the coaches well in advance of the tournaments, so the coaches already know who your son is; if interested, they usually reach out even before you get to the tournament.
As an example: Grant Eidschun from San Diego, CA was sent out to all Pac 12 and West Coast colleges last year, about a month before playing with AFC in a showcase in Phoenix, AZ. Grant was contacted 2 weeks before the showcase by Arizona State, U of Arizona, UCLA, Santa Barbara, San Diego State, Cal Poly SLO, and a few others, asking what day he was pitching. He spent the showcase talking with these coaches and was able to pitch with most of them watching. He was an 8th grader. Before Grant's freshman year, he was verbally offered by over 16 of these colleges and accepted Arizona State. Before AFC he had had no contact. (Below is Grant Eidschun with fellow ASU scholarship baseball player (6'7 RHP) Kevin McCann...)
Who do you want to be, the athlete signed by a college or the athlete that is only hoping to? The choice is yours!!!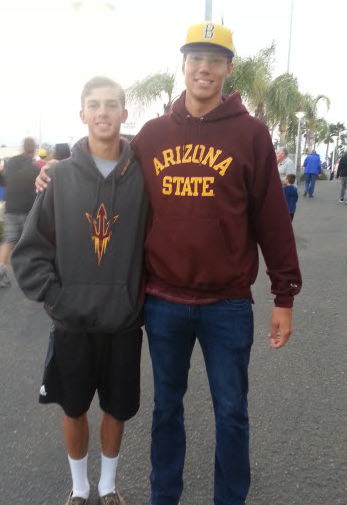 Athletes for College teaming us with West Coast Baseball"AFC West Coast Academy baseball" Is a national traveling showcase team that only allows players that can play at the college level and opportunity to showcase their talents in front of 100's of college coaches. Led by the team of ex MLB and professional players, scouts and others who will evaluate and work with these players teaching them everything they need to know to play at the college level. Some of the items included in the program are.
Minimum of 4 showcase tournaments throughout the country to maximize your exposure to all college coaches.
Athletes for College sends a detailed list and profiles to all the college coaches in the area of our tournaments. This gets our athletes maximum exposure. 98.5% of our academy members receive college scholarships.
Some of the items included in the program are:
1. Individual evaluation and scouting report by a professional " This helps to improve your skills and maximize your level of ability"
2. Play on a team that had the highest level of talent with all college level players.
3. Be seen live by coaches who have already evaluated you and are coming to the tournament to actually see you.. " Coaches do not come to showcases to find new talent, they go specifically to see players they are interested in"
4. Develop your skills with our AFC Academy developmental camps. Only available to our premium members.
5. Have mock college coaches meetings and lessons on how to communicate and impress college coaches.
6.Work with a recruiting specialist to make sure you are eligible for a scholarship
7. Your profile will be seen by ALL college coaches in the division you are evaluated in. " Our average baseball player receives 8 scholarship offers"
If you want to play baseball in College, AFC iWest Coast Academy baseball s a must to achieve your dream!!

Our events
All online-payment are handled by PayPal.
Event's name
Event's description
Premium
Basic member
Firecracker Championship 16U July/2-8
#1 Summer Tournament in the Nation July 2nd to July 8th Considered "Must Attend" by College Coaches & Scouts 220 Teams across the Nation and International – 18u Based out of Southern California, Orange County and surrounding areas he USA Premier Baseball 4th of July Firecracker tournament has EXPLODED from its humble beginnings of 6 teams in 1995, and now an ever expanding national and international event with approx 220 teams battling for the Firecracker Classic Championships! Firecracker Championship TrophyKnown for strong competition, high visibility and Championship title with additional berths to the winners make it a great team event you won't want to miss!!! Considered a "MUST ATTEND" by a large following of Coaches Universities / Colleges and MLB teams. TEAM ORIENTED showcase tournament with REAL CHAMPIONSHIPS attracting the best teams and players around check out the testimonials…. and Big League Alumni That is what the tournament is really about, giving players a chance to showcase their talents in an effort to reach the next level…whatever that might be for them. Outstanding competition, quality fields, great umpiring, strong scouting attendance and beautiful Southern California make this the "Top Rated 18U/16U/ Summer Baseball Tournament in the United States." Featuring approx 220 Top 18U/16U of the best teams
$300 Purchase
Fire Cracker 18 U LA July 2-8
#1 Summer Tournament in the Nation Considered "Must Attend" by College Coaches & Scouts 220 Teams across the Nation and International – 18u Based out of Southern California, Orange County and surrounding areas he USA Premier Baseball 4th of July Firecracker tournament has EXPLODED from its humble beginnings of 6 teams in 1995, and now an ever expanding national and international event with approx 220 teams battling for the Firecracker Classic Championships! Firecracker Championship TrophyKnown for strong competition, high visibility and Championship title with additional berths to the winners make it a great team event you won't want to miss!!! Considered a "MUST ATTEND" by a large following of Coaches Universities / Colleges and MLB teams. TEAM ORIENTED showcase tournament with REAL CHAMPIONSHIPS attracting the best teams and players around check out the testimonials…. and Big League Alumni That is what the tournament is really about, giving players a chance to showcase their talents in an effort to reach the next level…whatever that might be for them. Outstanding competition, quality fields, great umpiring, strong scouting attendance and beautiful Southern California make this the "Top Rated 18U/16U/ Summer Baseball Tournament in the United States." Featuring approx 220 Top 18U/16U of the best teams
$300 Purchase
Team Camp University of San Diego
June 23rd to June 26th Team Camp USD is a Camp run bu University of San Diego and has coaches evaluating from USD, UCSD. Torero Baseball Camps As a father and baseball coach, I know how important it is to find the right camp for your child! At USD baseball camp, we focus on the improvement of fundamental skills as well as increasing your child's enjoyment of the game. Our outstanding staff is dedicated to teaching baseball the right way with an emphasis on positive reinforcement and confidence building. This is the perfect baseball situation for any player! Rich Hill- Head Baseball Coach ..................................................University of San Diego Baseball........................................................... · During the past nine years USD has compiled the most wins in the WCC · USD has been ranked in the Top 15 in the country 5 of the last 6 years · USD has had every starting position player sign a pro contract 5 of the last 6 years · USD had 11 players sign a pro contract in 2010 the most of any college in the nation · USD will be breaking ground on a brand new stadium at the end of the 2012 season June 23-26 ..... Team Camp #1
$100 Purchase
2016 PGBA 16U College Station Showdown
2016 PGBA 17U College Station Showdown June 6th-, 2016 - June 9th, 2016 College Station TX. This is a great event for Big 12 and midwest colleges exposure. This is a Perfect Game event and will help for recruiting points. Attending will be ASU Commit Grant Eidschun, D1 prospects Jesse Garcia, Casey Peterson. Top prospects Tyler Thornton and Vincent Martinez.
$300 Purchase
Who are attending


| | | | | | | |
| --- | --- | --- | --- | --- | --- | --- |
| S.No. | Name | Graduation Year | Position | Location | Colleges Intersted | College Committed |
| 1. | Casey Peterson | 2017 | RHP, OF | Vista Ca | UCLA, UCSB, ASU, Texas | Multiple D1 offers |
| 2. | Grant Eidschun | 2018 | LHP, OF, 1B | California | UCLA, Indiana, ASU | Arizona State University |
| 3. | Jessie Garcia | 2018 | 3rd, C, 1st | California | 2015 National HR Derby winner | multiple D1 offers |
| 4. | Tyler Thornton | 2018 | RHP, SS, 2nd | California | TCU, Peperdine, Biola | D1 , D2 interest |
| 5. | Noah Servi | 2017 | LHP, OF, 1B | California | NCSU, ASU, Arizona, Grand Canyon | Solid D1 interest |
| 6. | Vincent Martinez | 2018 | C, OF | California | Texas, Texas A&M, UCSB, Vangard | interest is solid |
| 7. | Jake Larimar | 2018 | 3rd, 1st, C | California | USC, ASU, Oregon St, CSUF | lots of interest from D1,2 |
| 8. | Drake Rodriguez | 2017 | SS/2nd base | Florida | FGCU, FIT, Univ of West FL, TCU, Texas A&M, | none |

2016 16u Fall Classic
2016 Fall Classic will be in beautiful San Diego California. Oct 10th through 13th and will feature many of the top team in the western USA. San Diego weather is beautiful in the fall and the college scouts will be out in force. Dont miss this opportunity to play with the top elite program that has a college scholarship placement percentage of over 95% for its premium members.. Attending this event will be Arizona State University commit Grant Eidschun. Multiple D1 offered players Casey Peterson, Noah Servi, and D1-D2 interest players Vincent Martinez, and Tyler Thorntton. Space will fill fast so don't get left behind!! Sign up now!!!
$200 Purchase
Who are attending


| | | | | | | |
| --- | --- | --- | --- | --- | --- | --- |
| S.No. | Name | Graduation Year | Position | Location | Colleges Intersted | College Committed |
| 1. | Casey Peterson | 2017 | RHP, OF | Vista Ca | UCLA, UCSB, ASU, Texas | Multiple D1 offers |
| 2. | Grant Eidschun | 2018 | LHP, OF, 1B | California | UCLA, Indiana, ASU | Arizona State University |
| 3. | Jessie Garcia | 2018 | 3rd, C, 1st | California | 2015 National HR Derby winner | multiple D1 offers |
| 4. | Tyler Thornton | 2018 | RHP, SS, 2nd | California | TCU, Peperdine, Biola | D1 , D2 interest |
| 5. | Noah Servi | 2017 | LHP, OF, 1B | California | NCSU, ASU, Arizona, Grand Canyon | Solid D1 interest |
| 6. | Vincent Martinez | 2018 | C, OF | California | Texas, Texas A&M, UCSB, Vangard | interest is solid |
| 7. | Jake Larimar | 2018 | 3rd, 1st, C | California | USC, ASU, Oregon St, CSUF | lots of interest from D1,2 |
| 8. | Alec Fraser | 2019 | SS/2B, P, 1B, | n/a | Colorado School of Mines, Grand Canyon University, San Diego University, | none |

2016 16u #1 Firecracker Classic
USA Premier Baseball #1 Firecracker Classic #1 SUMMER TOURNAMENT IN THE NATION! The USA Premier Baseball 4th of July Firecracker tournament has EXPLODED from its humble beginnings in 1995, and now an ever expanding national and international event with teams battling for the 16U Firecracker Classic Championships! Coaches from most of the local Universities / Colleges plus some from not-so-local Colleges will be in attendance as well as the area scouts from almost all of the MLB teams. And that is what the tournament is really about, giving players a chance to showcase their talents in an effort to reach the next level… whatever that might be for them. Outstanding competition, quality fields, great umpiring, strong scouting attendance and beautiful Southern California make this the "Top Rated Summer Baseball Tournament in the United States." AFC Elite 16U team will feature Perfect Games top 10 rated and Arizona State University commit and 2018 Graduate Grant Eidschun. 2015 National Home run derby winner and top prospect Jessie Garcia. 2017 top prospect with multiple D1 offers Casey Peterson. Space on this elite roster is limited so sign up now!! Attendees: Name class position state colleges interested committed Grant Eidschun 2018 LHP CA UCLA, Virginia, UCSB, Indiana, ASU ASU Casey Peterson 2017 RHP CA ASU, UCSB, Univ of Texas, NM, Simpson, SCSU None
$300 Purchase
Who are attending


| | | | | | | |
| --- | --- | --- | --- | --- | --- | --- |
| S.No. | Name | Graduation Year | Position | Location | Colleges Intersted | College Committed |
| 1. | Alec Fraser | 2019 | SS, 2nd | Colorado | Grand Canyon, Colorado School of Mines | None |
| 2. | Casey Peterson | 2017 | RHP, OF | Vista Ca | UCLA, UCSB, ASU, Texas | Multiple D1 offers |
| 3. | Grant Eidschun | 2018 | LHP, OF, 1B | California | UCLA, Indiana, ASU | Arizona State University |
| 4. | Jessie Garcia | 2018 | 3rd, C, 1st | California | 2015 National HR Derby winner | multiple D1 offers |
| 5. | Tyler Thornton | 2018 | RHP, SS, 2nd | California | TCU, Peperdine, Biola | D1 , D2 interest |
| 6. | Noah Servi | 2017 | LHP, OF, 1B | California | NCSU, ASU, Arizona, Grand Canyon | Solid D1 interest |
| 7. | Vincent Martinez | 2018 | C, OF | California | Texas, Texas A&M, UCSB, Vangard | interest is solid |
| 8. | Jake Larimar | 2018 | 3rd, 1st, C | California | USC, ASU, Oregon St, CSUF | lots of interest from D1,2 |